A new book about Matchbox Toys by Nick Jones.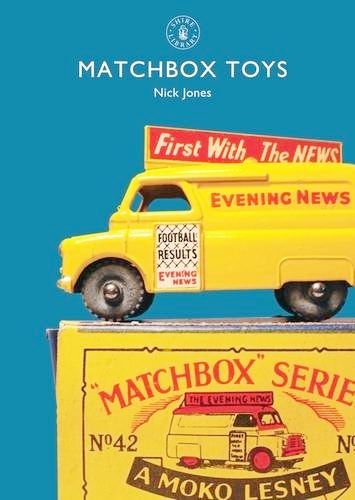 I now have this great new little book about our beloved Matchbox toys (written by longtime Matchbox collector Nick Jones) in hands and I realy like it !
The book features Gary Galvin's early large scale Lesney toy collection which is one of the 2 finest collections in existence. With so many Early Lesney Toys on photo this certainly gives one of the most complete overviews ever published. Where-ever did we saw 7 variations of the early Road Roller pictured ? The box pictured with the great Massey Harris Tractor is different then the one in the 40th years book so even if you have the 40th years book (which publication was almost 30 years ago) there is much new for you to see in this new book by Nick. Both Nick and Gary (and myself) where among the few collectors who visited the opening of the Matchbox exhibition in the London Hackney museum on the evening of March 18th 2004 and as we now know this was the last occasion that collectors could meet both founders of Lesney Products (Matchbox); Leslie Smith and Jack Odell. Nick Jones had his great all original UK 1966 Matchbox dealerdisplay on show there and a photo of that display in full swing with all the correct models is one of the many fine pictures in this book.
The book also features Matchbox Regular wheels 1-75 and Superfast and Matchbox Accessory packs, Major packs and Kingsize. Don't expect endless variation lists. The mixture of photos is fine, showing both the more easier to find models but also some of the more elusive variations. There is also a small section about Matchbox Models of Yesteryear models and some of the fine Matchbox giftsets are pictured.
With almost 80 colorphotos in the book there is something for every-one.
The book also contains original black and white photos of Leslie Smith and Jack Odell and the factory and that section makes the book especially fine for me. Although I have many books and paperwork on Matchbox and I got all the original paperwork which was not used for the 40th years book when I was helping with Alex Picha his book about Matchbox some years ago I never saw the black and white photos in Nick Jones his book published before in other books, newsletters or publications. These black and white photos makes the book an indispensable book to have for the genuine Matchbox collector.
It has been quite some years ago that a book about Matchbox Toys was published and I always welcome this. I personally want to thank Nick for all his efforts in promoting our beloved hobby. The webforums including Nick Jones his own forum Vintage British Diecast are nice but a book is for ever !
http://www.vintagebritishdiecasts.co.uk ... aaa4ec0bea
All very well worth the £7.99 pricetag.
The book is published by Bloomsbury (Shire Library) and you can order your copy direct from Nick Jones, signed by Nick if you want.
with UK shipping the total is £9.19, click this link
http://www.paypal.me/nickjonesbooks/9.19GBP
with European shipping the total is £11.69, click this link
http://www.paypal.me/nickjonesbooks/11.69GBP
with Worldwide shipping the total is £12.74, click this link
http://www.paypal.me/nickjonesbooks/12.74GBP
Nick will travel all the way south to the Sandown swapmeet on Saturday November 12th and will have the books with him. So why not come along and say hello and buy the book there? It will save you postage and you will get a personal chat and a superb swapmeet as a bonus.
More information on the fair:
http://www.bpfairs.com/
marcel