As requested in another post, I am posting some pictures of the 3 prepros from the Ferrari triple Set that was issued in 1990. Depending on where you were in the world it was called either MP-803 (the one where it is commonly referred to as) or MP-109A (UK reference).
The set came with the following 3 models....


There was a Ferrari F40, a Ferrari 308GTB and Ferrari Testarossa. All models were in red with Ferrari logo on the front. The only model that was exclusive to the sets was the 308GTB. as both the F40 and Testarossa were also found the same in singles.
The set of 3 models were also used later on in the MC-18 gift set, as well as an F1 Racer and Box Truck.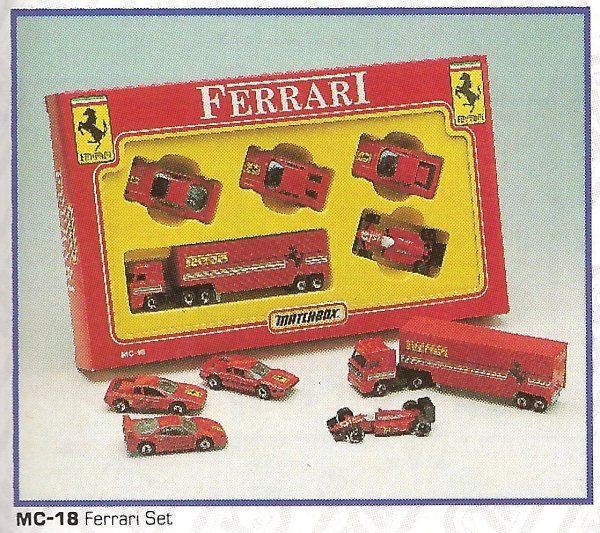 Here is a scan of the set from the 1991 catalog (as I do not own the box any more).
But following is a group shot of the proposed 3-pack with multi-colored models.

Yes, before they went all red, the proposal was for a blue F40, yellow 308GTB and white Testarossa.

Was it a request from Ferrari that they had to keep them all "Ferrari" red?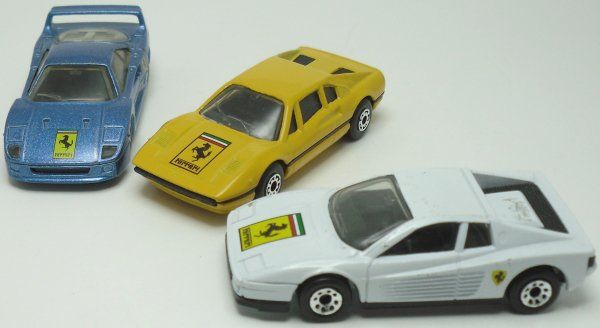 Or did Matchbox (under Universal ownership at the time) think it was best to keep them simple?

Either way, it is a shame that they did not go with the different colors on the models. I like the non-standard red ones.