Well, for those who were not there, the Matchbox Gathering took place this weekend in Albuquerque NM. Sadly I could not attend this time (already planning on next year's visit). But one of the big things (apart from meeting loads of collector friends, buying loads of new stuff and getting the cool models Jim and Everett do each year) is the fact that Matchbox themselves attend and use it as a platform for the next year.
This year was no exception and they told us all about what new castings we will get for 2017. Of course there will still be some generics (or Matchbox originals as they call them) but there are a lot more real licensed vehicles this time. As per usual, they also gave us a sneak peek of the prepro castings as they currently stand for the most part (one has not actually reached mock-up stage yet).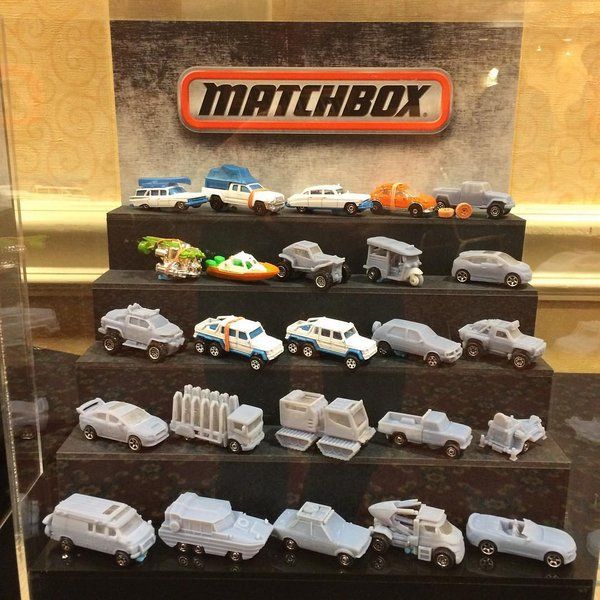 This was the display on show this year. One of the things that they have mentioned is that the Matchbox originals are much more realistic in tone. You should be able to see a lot of where they get their cues from.
So here is a rundown of the 25 mock-ups on display this time....
Top row.
1. 1959 Chevy Brockwood Wagon (with canoe on the roof)
2. 2016 Toyota Tacoma with removable tent.
3. 1951 Hudson Hornet Police.
4. 2016 Fiat 500X.
5. 2015 Jeep Gladiator Concept (should be the first to sport a new slightly larger utility wheel design (mock up wheels sitting in front of it).
2nd row.
1. Matchbox original - Sub Seeker (a mini version of the Deep Diver,)
2. Matchbox original - TinForcer Patrol Boat
3. Ghe-O Predator.
4. Matchbox original - based on the Tuk Tuk.
5. BMW i3.
3rd row.
1. Matchbox original - Snow Thrasher (planned name based on an Arctic 4x4 Truck)
2. Mercedes Benz AMG 6x6 (no interior version - for use in basic ranges).
3. Mercedes Benz AMG 6x6 (with interior version - for use in premium ranges).
4. 1990 VW Golf 4x4 Country.
5. Matchbox original - Sanora Shredder (based on Chevy/Ford 1960s style pick ups with added extras)
4th row.
1. 2015 Subaru Impreza WRX STi Police.
2. Matchbox original - Glass King (based on the same cab as Pit King now being used to haul glass panels).
3. Matchbox original - Snow Cat (not official name, an Arctic Rescue vehicle)
4. 1966 Nissan Junior Pick Up.
5. Matchbox original - Speed Trap Trailer unit (no Matchbox name yet)
5th row.
1. 1995 Chevy G30 Van with motorbike on rear (Gerry's actual vehicle).
2. Matchbox original - based on the Duk-Duk Truck.
3. 1970 Datsun 510 (4-door, rally style with roof rack with spare parts in it)
4. Matchbox original - Tree Excavator Truck (completely generic, slightly futuristic design).
5. 2016 Chevy Camaro Convertible.
Also on course for a 2017 debut but not currently at mock up stage yet....
2017 Volvo Fire Engine FL6H
Note: All originals will have metal bodies, the Sub Seeker has the most plastic on any model planned for next year. They plan on trying to do a fire engine each year, and with the last numerous years all being USA based, they have gone with a Euro style engine. Jeep will alaso be built upon as the years go on. There were a couple in 2015, and this one in 2017, with plans to build up a good array of various Jeeps.
Also due to be released in 2017 they have the following....
Color Change models (due July 2017)
VW Transporter
1968 Ford Mudstang
Spark Arrestor
Coyote 500
(Note: bodies will be plastic, bases metal, when changes the alterate version will show mud on the models as well as a different colour).
Walmart exclusive Camo Collection (due May 2017, all with full coverage camouflage tampo scheme, all different types of camouflage).
Blizzard Buster
Ford F-150 Raptor
Toyota FJ40
Yamaha Rhino
Hummer SUV Concept
Jeep Compass
Best of.... (series 2 TRU exclusive for USA, other markets unknown - Spring 2017)
Lamborghini Miura
Porsche 911 GT3
Range Rover Sport
BMW M5 Police
Mercedes Benz CLS500
VW T2 Bus
Best of.... (series 3 TRU exclusive for USA, other markets unknown - Autumn 2017)
1962 VW Beetle
Dodge Magnum Police
1965 Alfa Romeo Giulia Sprint GTA
Caterham R500
London Taxi
Bentley Continental GT
Power Grabs - increased distribution, Kroger, Walgreens and Kohl's for USA, other markets unknown
4 of the 10-pack exclusives were shown
2007 Shelby Mustang Cobra Convertible - pale green
1970 Plymouth Cuda - pink
Porsche Cayenne Turbo - light brown
1955 Cadillac Fleetwood - lemon with black roof
Jurassic Collection
2012 Ford Explorer Interceptor - green (Jurassic Park)
1998 Jeep Wrangler - silver (Jurassic Park)
Truck Camper - green (The Lost World)
BMW R1200GS - silver (The Lost World)
Rescue Helicopter - white (Jurassic World
Mercedes Benz Unimog - silver (Jurassic World)
It was also mentioned how through the Ambassador programme there was a poll of possible models that Larry Scaduto created. There was already plans in place for 2017, and they are looking at the most popular ones as ideas for 2018.
Also, there are some Skybusters too.
Airbus A400 Cargo Plane
Boeing 747-800
Matchbox original - Early Flight (sort of early Wright Bros creations or thereabouts).
Matchbox original - Animal Silhouette Flight.
Matchbox original - Hopper Jet.
Matchbox original - Rescue Helicopter.
BTW The Matchbox Ambassador programme is now on hiatus. They awarded Dirk with his bus, but have decided with instagram etc, that they need to try and do something different now. It may return in a different capacity in the future.
I think that covers most of it.